Sycamore High School


Class Of 1963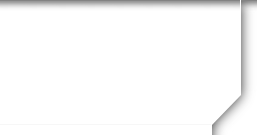 In Memory
Gerald (Jerry) Prescott Cunningham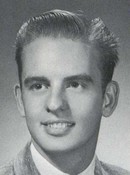 Obituary: Gerald "Jerry" Cunningham, 66, of Pikeville, TN died Monday, May 30, 2011. He died after a long struggle against cancer and was a Vietnam Veteran.
He was preceded in death by his father World War II veteran, Doyle C. Cunningham; his beloved younger brother, John A. Cunningham; and his cherished younger sister, Sandra J. Cunningham.
He is survived by his three children, Heather Cunningham, Carl Cunningham of Ohio, and Kevin Cunningham of Pikeville; his mother, Phyllis Cunningham of Pikeville; sisters, JoAnn Reside of Scottsdale, Arizona and Donna Cunningham of Pikeville; and his uncle Cecil Corvin of Pikeville. He will be missed by his precious dog, Belle.
* * * * * * * * * *
I received a note card on January 28, 2013 from Jerry's mother advising me that Jerry died on May 30, 2011. Little is known about the cause of death. As you might imagine, Jerry's mother is quite old and lives in Pikeville, Tennessee. It is believe that Jerry was living with her as they shared the same mailing address.
Jerry was part of our boys group in high school which included me, Jim Clingner, Bob Dallas, Jay Aschendorf, Pete Marshall and the late Dick Brothers. We spent much time together especially during our senior year. Every Thanksgiving morning, I would go to Jerry's folks' home in Foster and do a little out-of-season hunting. I don't recall if any of the other guys were with us, but that time together is a special memory for me as we would end up in Mrs. Cunningham's kitchen eating a hearty country breakfast. His folks were really special people.
One other story I will always remember is how kind his dad was to me when I wrecked their family car in Montgomery Frisch's parking lot one raining evening. We were waiting to exit and when I became impatient with the cars in front of me, I put the car in reverse, looked behind me and abruptly back into a 'lowered' Pontiac that was not visible behind me. I had no money to pay for repairs. Mr. Cunningham claimed the accident on his insurance (even though I was an unlicensed driver) and the subject never came up again. I suspect Jerry got an earful when he got home.
Many of you probably know that Jerry and I married twin girls after high school. We both divorced. Jerry remarried for a short while thereafter but that union did not last. I spoke with Jerry in 2008 just before our 45th reunion and he was not able to attend the reunion for a variety of reasons. That was the last time we talked. I certainly remember him as a handsome and polite kid with prominent southern manners, an offshoot of his upbringing and, a guy willing to do anything for others.
Jerry leaves behind three children, two sons (Kevin & Carl) and one daughter (Heather). I learned from Mrs. Cunningham's note that he was a grandfather but did not know if he was a 'first-timer' or had several grandchildren. In 2013, his ex-wife confirmed that Jerry had a granddaughter with 'Preston' as her last name.
Bob Tharp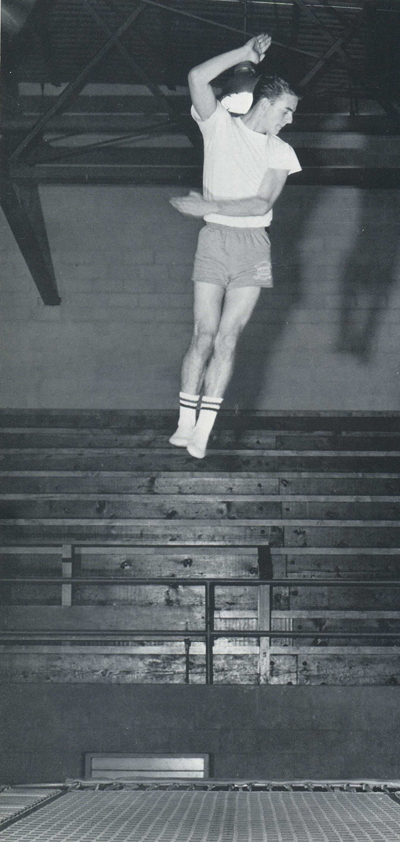 I remember Jerry's constant smile and his ridiculous skill on the trampoline. Halbert Thomas
I remember Jerry.....he was one of those guys that was always laughing and smiling and looking for someway to ditch school to be off campus and having a great time while our principle never had an inkling that he was gone for the day. I always would have liked to be included in his bravery, but would never have been able to break the rules. My parents would have been so disappointed. Yikes! I am pretty sure that Jerry was on our Senior Trip to Washington D.C. making that train ride an unbelievable party. I remember Mr. Bartlett making the boys sit on the left side of the train and the girls on the right? We kept him up all night checking on us.
Sorry to learn that Jerry has passed away, but remember how much happiness he contributed to that whole Ozzie and Harriet childhood where I grew up. Paulette Lowe-Busam